IFTA Quick Shot: Dr. Steve Blizzard (right) receives one of IFTA's most prestigious awards, the Hall of Fame. Appearing with Steve is long-time friend Win Cowgill of Rutgers University.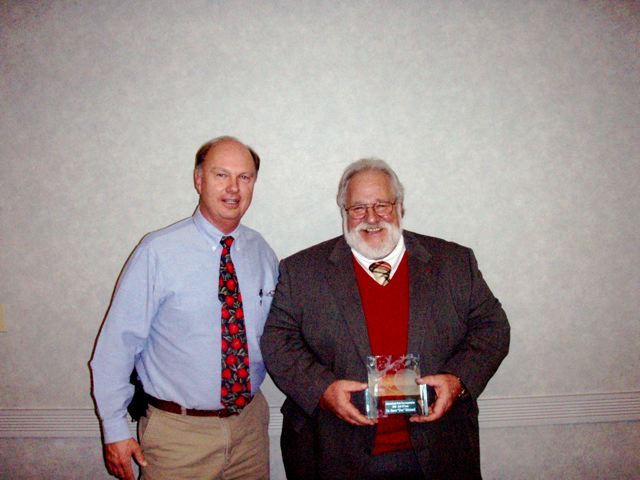 The International Fruit Tree Association's Hall of Fame Award was presented to Dr. Steve Blizzard at their annual meeting banquet in Visialla California, on Febuary 16, 2008. Larry Lutz, Vice President presented the award and made the following remarks:
"Three years ago IFTA imitated the IFTA Hall of Fame Award. This award is designed to recognize individuals whose contributions have made the IFTA the organization that it is today, the premier educational organization for tree fruit growers.
"He has been a wealth of knowledge and is always willing to share his opinion. He is also a great communicator.
"Blizzard was born in the Eastern Panhandle of West Virginia, and is a fifth generation grower. In 1974 Dr. Blizzard received his Ph.D. in Plant Pathology and Horticulture.
"He soon became the Assistant Director and Research Coordinator for the Division of Plant and Soil Sciences at West Virginia University.
"During his years at West Virginia University Dr. Blizzard attained the rank of Professor and mentored nine graduate students. He has traveled all over the world sharing his ideas on rootstocks and training systems with growers whom he calls friends.
"In 1988, Dr. Blizzard moved to Texas as President of Texas Hill Country Orchards, where he established over 700 acres of high density orchard. This orchard later succumbed to a little known disease cotton root rot. His friends are careful not to mention this -- unless we have the opportunity -- on a regular basis. :-)
"He then moved to California where he oversaw the establishment of over 2000 acres of Pink Lady apples for LOGOLUSO Farms, Madera, CA. Currently he is director of field operations at LargoMarsino Group, Visalia, CA where he manages over 3,000 acres of stone fruit, grapes and blueberries as Director of Farming.
"Steve has been a great friend of this organization, serving as president from 1999 - 2001 and completed three terms as a director. He is one of the most knowledgeable horticulturalists that I know and I can think of no one more deserving of this award."
The two previous recipients of the Hall of Fame Award were Wally Heuser and Paul Rood.
---
Copyright©2008 Virtual Orchard