IDFTA Eastern Tour Lands in Historical Massachusetts

by Jon Clements, University of Vermont
and Win Cowgill, Rutgers Cooperative Extension


Over 100 savvy orchardists gathered in central Massachusetts July 22-24 for the International Dwarf Fruit Tree Association's (IDFTA) Eastern Summer Tour. In two days, we visited seven orchards and two farm markets, and learned what commercial apple production in historical Massachusetts is all about.

Our first exposure to the Massachusetts fruit industry came Sunday evening at Tour headquarters the Sheraton Four Points Hotel in Leominster. Pronounced correctly, 'Lemonster ,' is the birthplace of John Chapman -- you guessed it, the famous Johnny Appleseed! Massachusetts Commissioner of Agriculture Jay Healey graciously and enthusiastically introduced us to their 'state' of agriculture, which is apparently quite good. The state's farmers harvest over 500 million dollars worth of fruits, vegetables, and nursery products annually. Commissioner Healey explained Massachusetts commitment to environmental soundness, Integrated Pest Management, and to the development of 'value added' products in their agricultural marketing mix.

Dr. Wesley Autio, UMASS Extension Fruit Specialist and Professor, spoke specifically of the Massachusetts apple industry. "McIntosh is currently the #1 variety at 60% of the crop" he explained, however, "Cortland is becoming increasingly and deservingly popular." The remainder of the Mass. variety mix includes Delicious, Macoun, Empire, Gala, GingerGold, Fuji, and Mutsu. The evening was topped off by a tasting of Carlson's Orchard McIntosh sparkling cider, and 'Perry' Carbonated Pear Wine from Nashoba Valley Winery. Both were excellent tasting, 'value-added' Massachusetts orchard products.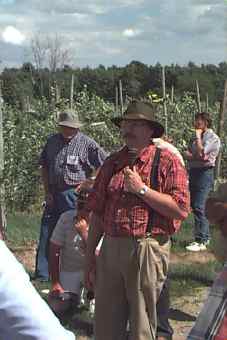 Dr. Wesley Autio, University of Massachusetts, Tour Organizer


On the buses at 8 AM sharp Monday morning, the first stop was Gibbet Hill Orchard in Groton. Capably managed by Don May (below, and past president of IDFTA), Gibbet Hill is less than one hour from Boston, and is facing the pressure of residential sprawl, as evidenced by some very new and large houses on its' outskirts -- "Condo's instead of Cortlands!" as Don so bluntly put it. Still, he is moving forward with young plantings, including the 1200 tree per acre block trained to a modified 'V' System we visited. Don demonstrated his novel use of electrical tape to stop vigorous, upright growth -- "face it down" as he so aptly called it. His technique must be working because the block produced 225 bushels per acre of Jonamacs in it's 3rd leaf. Not a bad job, Don!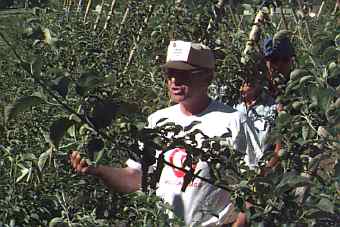 Donald May, Gibbett Hill Orchard, IDFTA Past President


Next stop was an unscheduled tour of the Veryfine Juice Company. Veryfine, if you are not familiar, was the first to market single serving juices -- most prominently apple and orange. This very clean plant operates 19 hours per day, and can fill, cap, and package 1,500 juice bottles per minute. Veryfine is very proud of their environmental record, having won numerous national awards and installed state of the art water treatment facilities. They also recycle over 98% of their solid waste. Everyone agreed Veryfine was a worthwhile and interesting Tour diversion.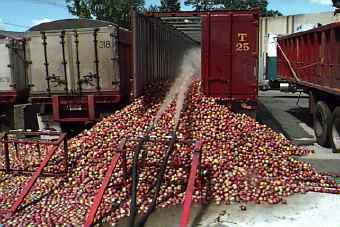 Unloading apples at Veryfine Juice Plant

We then traveled on to Andrew Martin's Honey Pot Hill Orchards in Stow for a quick pre-lunch visit. Honey Pot Hill has been family owned and operated for 71 years. Noteworthy Honey Pot features include: permanent overhead sprinklers for frost control and irrigation (the farm borders a river, therefore, all their orchard blocks are irrigated -- an unusual feature in the Northeast); prominent use of trunk scoring to keep vigor down; and a customer base of 5-6,000 'Pick-Your-Own' school kids annually. All of Honey Pot's fruit are marketed retail or PYO.

By early afternoon we were definitely ready for lunch! Traveling to Tougas Family Farms in Northborough, we were served a delicious lunch of meatballs, sausage, salads, rolls, and strawberry shortcake by their culinary talented kitchen staff. Mo Tougas and Field Supervisor Terry Bradshaw (a transplanted, native Vermonter!) explained that all their fruit is harvested PYO. The Tougas family markets a winning combination of fresh fruit, fresh air, family fun, and great food. Their Boston area customers arrive in droves for the quintessential Fall apple picking experience! Mo Tougas says "PYO means short trees are now the rule!" Most of their plantings are on on M.9, Mark, M.26, or M.9/MM.111 rootstocks. We looked at the use of wood chip mulch to improve Mark rootstock growth and vigor, which appeared to be successful. And Dr. Ron Prokopy of UMASS (famous for his apple maggot fly research) talked about some novel trapping and monitoring approaches for that pesky plum curculio.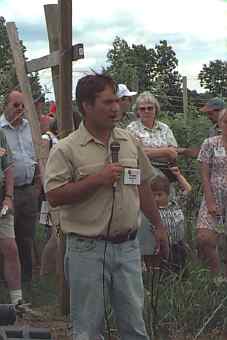 Mo Tougas, Tougas Family Farms, explains his operation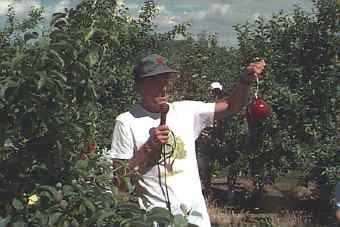 Dr. Ronald Prokopy, University of Massachusetts, and his 'signature', the Apple Maggot Fly trap


Last stop on Tour Day 1 was William Broderick's (aka 'WillyGoat') Sunny Crest Orchards in Sterling. An historic family orchard dating back to the late 1800's, it is believed that the variety American Beauty originated there. Bill has been running the orchard since 1977, gradually increasing the percentage of dwarf trees -- currently at 15 acres, vs. 30 acres of semi-dwarfs. Bill showed us a typical young planting of HoneyCrisp and GingerGold on M.9 at 5 X 20, however, mentioned he is somewhat disappointed in the production to date. Several pointed out that the very wide between-row tree spacing may never allow for optimum fruit yields. All Sunny Crest fruit is wholesaled, mostly to the roadside trade.

Tuesday morning found us headed west (away from the cities) towards the Connecticut River valley for visits to two orchards that sell most of their fruit wholesale. First stop was Tim Smith's Apex Orchards in Shelburne. There we were treated to homemade donuts, coffee, and juices. Despite the light rain, the view from Apex was 'clearly' spectacular. Portions of three states -- Vermont, New Hampshire, and of course Massachusetts -- were visible. The farm has been a family operation since the mid-1800's, with major orchard renovations taking place under Tim's auspices over the past ten years. Tim showed us two neatly tended blocks: Macs and RedCort on M.9 at 6 X 14 (520 trees per acre); and Macs, RedCort, GingerGold, 'Yataka' Fuji, HoneyCrisp, SunCrisp, and Smoothee Golden delicious on M.9, and Braeburn on M.7, at 5 X 12 foot spacing (725 trees per acre). Indeed these were very nice young blocks and said a lot about Tim's orcharding prowess.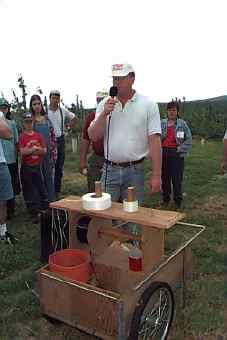 Tim Smith, Apex Orchards, displays a homemade tree-tying and training cart


Second and last orchard visit on Day 2 of the Eastern Tour was a new planting being established by Dana Clark and family. Called the Hawley Orchard, this young block of trees is being established at an elevation of about 1,800 feet in a large clearing that was previously hardwood forest. Dana's father has spent many hours on a bulldozer converting this rugged piece of New England into an orchard. His family, including wife, children, and mother, have all contributed significant effort in tree planting and training 13,000 Empire, Macoun, HoneyCrisp, Cortland, and Gala's on Mark, M.9, and B. 9 rootstocks. The green manure crop buckwheat and a cotton processing sludge byproduct have been used to improve soil fertility on this virgin site. Dana pointed out the Hawley Orchard is several hundred feet above the main farm -- which has been in commercial production for more than 140 years, therefore giving him what he hopes is an extended harvest season. The Clark family's expertise and commitment to making their new orchard planting work was evident after touring this large block of young trees.

Lunch -- sandwiches and salads catered by the Deerfield Rod and Gun Club -- was a welcome retreat from the rainy morning weather. Orchard Equipment and Supply of Conway, Massachusetts displayed an orchard tractor and had catalogs and representatives available for questions on their products. For some like us, this was a convenient departure point for home, whereas many chose the option of visiting Atkins Farm Market in South Amherst, or the Yankee Candle Co. in Deerfield during the afternoon. We're sure those tours were enjoyed by those who attended. Finally, for those anglers amongst orchardists, Dr. Autio arranged for a day of Blues and Striped Bass fishing off the Cape on Wednesday. We'd heard the fishing had been good, so hopefully they landed a few big ones!

For more information about the IDFTA and it's programs, contact Charles Ax at (717) 837-1551, or visit the Virtual Orchard at http://orchard.uvm.edu/idfta/